Winter 2019 $199 Tandem
---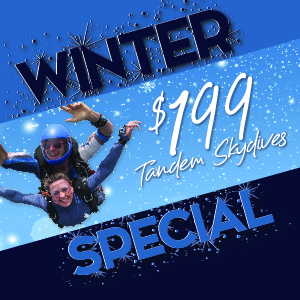 Winter 2019 $199 Tandem Skydive at Chicago
---
Terms and Conditions:
The full value of the gift card is refundable only within 30 days of the purchase date, no exceptions.
The gift card expires 5 years from the date of purchase.
You must be at least 18 years old to skydive, no exceptions.
You must weigh less than 250 lbs, no exceptions.
The consumption of alcohol and/or drugs prior to jumping is strictly prohibited.
Advanced reservations are required to redeem the discounted rate.
Cannot be combined with any other discounts.
This gift card is good for one tandem skydive at the discounted rate of $199 if used in the 2020 season. If this gift card is not redeemed in 2020, it will be good for $199 towards the regular full price of one tandem skydive and the remaining balance will be due on arrival.
---